INTERVIEW WITH JOSH COLLINS. THE INVENTOR OF THE ULTIMATE PARTY
It's an honor and a pleasure to present the great Josh Collins, one of our generation's most ultimate party organizers.
The illustrious father of The Wild Weekend: the cheekiest 60s garage weekender to ever leave a spank mark on the ass of the Spanish festivals scene. Party promoter, avant-garde music club manager around the globe, and now deeply involved in his own movie company, Zombie Zoo Productions. As if that weren't enough, he (almost) built a rock and roll theme park in Australia, where (zombie) animals and humans would live in harmony until the end of times. In this interview, he explains all this and much more. We spoke first hand with Josh Collins, a real renaissance man from the future.
JOSH COLLINS
The inventor of the ultimate party
To read and share in spanish here:  Chopper Monster
Where are you from and when did you become interested in music?
I grew up in France and always loved my music, my mum had a great record collection of sixties stuff which I loved. She put on very elaborate parties for all her arty/theatre friends which I always helped decorate and organise. I soon got into punk, psychobilly and the alternative stuff around, through mates and the John Peel radio shows. That's where I first heard the Mummies. As soon as I could I moved to London to party and was a regular at all sorts of underground club nights such as "Alice in Wonderland" (where I met Babz my wife). Klub Foot, The Mud Club, Heaven, The Bat Cave, Taboo, Smashing…
We heard that you studied Dramatic Art, Is this true? How were your student days? Which were the highlights of that era?
I studied 'Theatre Design' at Central St Martin's school of Art in London which was very lively. I was soon organising the entertainment and DJing at the bar there. We ran some fabulous sixties /trash nights called the Gogo Gorilla where my band Los Easy Lays  (Champs/Link Wray/Las Vegas Grind) often played. This soon evolved into the Frat Shack nights. We also had a fully equipped theatre to put on pantomimes and such and a work shop to build props.
Does your engagement with cinema come from those days?
A love of retro music meant a love of all the old films from the era as well. The Scala cinema in Kings Cross ran a fantastic selection of themed movie nights which I loved – Russ Meyer, Zombies, Italian, Gay, Psychedelic, John Waters, etc… A great introduction to non main stream movies. Theatre design hated all these things, and never understood them, but they would invariably have an influence on my work..
As a kid I adored Tarzan, Conan, Godzilla, Cowboys, real adventure stuff and french TV always showed good soft-core stuff at night like the famous 'School maidens' series!
Why did you decide to go to live in Australia? What had Oceania that London didn't?
Babz' family lived in Perth and we often visited, I loved the open space, wild ocean, laid back people and the Beach! Plus there has always been a good music scene over here. We sensed an opportunity to try something different out there.
What's the coolest thing about living in Australia and which one is its most awesome city?
Australia is a good mix of UK Euro culture and the brasher newer culture of the USA just look at their cars, like a cuter version of American cars. Well the best thing is the open space and getting out there to camp, hike, look at weird animals ( there are some really weird things crawling around out here). I live in Melbourne which is really multicultural and has lots of great bits to explore…the sheer number of crazy people here makes it the best city!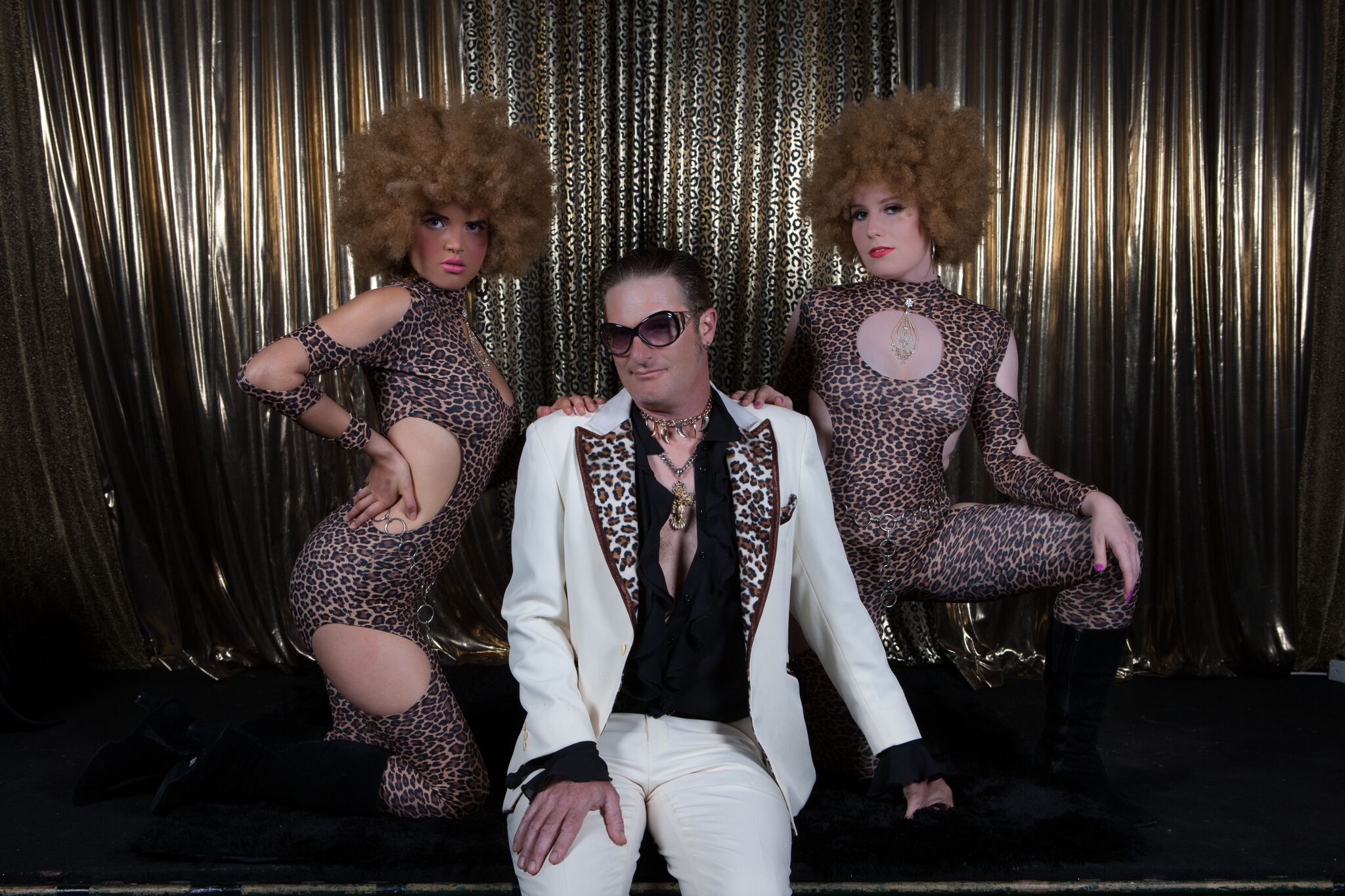 Are you a fan of the Oz Rock sound? Which bands would do stand out in your opinion?
I never really liked the "rock" sound but loved the sixties garage and all the punk stuff like Radio Birdman, Celibate Rifles, Saints, Ugly Things, Stems, Scientists, Beasts of Bourbon.
My favourite Australian bands now are King Cornelius and The Silverbacks (monkey rock and roll from Perth), Mesa Cosa (Anarchic mexipunk party band), Amyl and The Sniffers (seventies punk sharpies led by the mean and sexy Amy) and Thee Wylde Oscars (Garage Beat).
Talking with the Spanish mass-leader Mr. Bratto, and he informed us that you're the father of the ULTIMATE PARTY concept, or at least he explained it like that, an idea that to this day, festivals like Funtastic Dracula Carnival, Bule Bule Toga Fest or WE´RE LOUD keep alive. What is and what exactly means the Ultimate Party Concept? How and why did you get the idea? Didn't it already exist before you took it to practice?
Ha, Thanks Bratto! In the USA there were already lots of fests like Cave Stomp, Dionysus Demolition Derby and Garage Shock, but these were very band based and lacked a lot of the peripheral entertainment and partying that you would get in some of the clubs I visited. We would go out to fantastic nights but the music sucked, or low rent nights with great music, so we wanted to combine the best bits into a non stop musical orgy like all the party scenes you would see in all the old films…So we added strippers, gogo girls, monsters, crazy routines, old movie projections and far out decor. I also attended and helped out at the Sex Maniacs Balls run by a friend of my mums Tuppy Owens. They were awesome!
What got you into the Business World, if we may call it like that? How would you call it? We mean promoting festivals and your Party and Concert Bars. Well, your Rock and Roll Amusement Park. Everything you do has Rock and Roll involved?
Things have always revolved around parties for Babz and me and these got bigger and better all the time culminating in the Wild Weekend and The DEVILLES PAD and LuWOW clubs we built and run in Australia. These were amazing totally themed bars with great drinks, food, bands, fully costumed gogo dancers and we ran them for about 8 years! I always liked different sorts of music so garage, rock and roll, trash was rotated with soul/funk nights, Disco nights, latin afro nights, eighties events and of course mad parties!
We bought a crappy run down amusement park and were trying to do it up as The Zombie Zoo, but spent two years fighting the locals and council who hated us, and ran quite a vicious campaign against us for a while, so we moved on…It was great though and had castle, go-cart track, water slides, train, boating lake etc….
In the field of your Festivals, Did it all started with the FRAT SHACK sessions? What exactly were they? Who played there? How long they lasted and where did they took place?
Babz, me and my friends like Liam Watson were running The Frat Shack nights and making small movies. Babz ran a sixties fashion label called Babzotica, and Liam ran Toe Rag studio all in the same shared warehouse in Shoreditch. These all combined in the frat shack and bands like the Headcoats, Mummies, Dukes of Hamburg, Phantom Surfers, Earls of Suave, Kaisers, Cave Four, 54 Nude Honeys, 5678's, Dr Explosion, The Monsters, all played there.
What happened when these parties came to an end? Wild Weekend?
The Wild Weekend was a direct continuation and overlapped with the Frat Shack, and they never stopped I still organise stuff now around Australia with some LuWOW club nights!
We try and make our parties like the scenes from old movies we project like The April Fools, Beach party, The Party, Head, Madam Satan, Beyond the valley of the Dolls, Village of The Giants… every good sixties seventies movie has a great club or party scene.
What did Wild Weekend have that Frat Shack didn't? Where did Wild Weekend start and where did it end?
The Wild Weekend was a much more international affair and from the start we always put on a good mix of international bands. Basically all the bands we wanted to see! We started in London then did one on the south Coast of the UK, then onto Benidorm! We could never have had bands like the Lyres play a Frat shack.
Why did you decide to move it to Benidorm?
Easy, Lucas from Los Bastardos put on a show of my band The Sidekicks (Joseber Perros, Eric Salami and either Satu Gabba Gabba or David Flaks) at the Underground Club and I was amazed by Benidorm. It had it all: cheap flights, cheap beer, cheap venues, good food, the beach, Stcky Vicky and great locals who all wanted to help…Paloma was up for helping out with the Spanish side of the organising and off we went!
You also did Las Vegas Grind festival, Where did this one happen?
Tom Ingram and Barney No Hit were flush from their success with The Viva Las Veags nights and got us and Eddy Angel to help organise a more trash/surf Beat festival at the Gold Coast hotel over there.
They were great some awesome lineups with The Remains, Trashmen, Wailers but didn't really work out in the end and our efforts went back to the Wild Weekend.
Oh My God, so much party! What tied all these festivals together?
Gogo dancers! I love Gogo dancers! The best way to get a party going. The love of the music, the costumes, the party! And I love to dance myself you can't stop me!!
As if it wasn't enough with all those festivals, you also had time to produce your own movies, like Pervirella, Hot Carumba, and the just released, Fags in the Fast Lane.
Well a lot of the early films were shows we did at the club and part of videos we put out to show and promote the nights. Perv Parlor was my first full length musical feature with lots of bands, sex and bad taste horror about a demonic Brothel!, Pervirella was made with horror film maestro Alex Chandon. It takes it all to the next level for a pansexual rock and roll adventure.
Basically I am lucky enough to be able to do this full time and usually spend two years or more on a film, so find time to run all the other nights as well. At one point we were running 3 bar/clubs in two cities (5 hours flight apart) with shows on every weekend night and more and still making other stuff! I can ony do this because Babz helps me!
What is your movie Hot Carumba about and who wrote the script?
Hot Carumba is about and old mexican band that get back together and make it big in Vegas! It stars Los Easy Lays and their friends the Slingbacks. I don't think there is a script as such we just had a load of songs we wanted to stitch together with a rough story about the "Taverna del Amore".
Could you explain us, more or less, how is your life like? How is a normal day for Josh Hoss?
I don't have normal days, every day is different!
Could you tell us something about your film career? When does your interest in cinema begin? How would you define your movies? Are you a director, producer or screenwriter? Have you got your own Movie Company? How's it called?
Zombie Zoo Productions is the name of my production company from the theme park we tried to bulid. I don't really work the film school way and usually have a hand in everything that goes on except the acting! I am a definite behind the camera man. Like I said the Clubs/bars/parties we create are all very cinematic so it's a natural no brainer to turn it on its head and make movies. Nights at my clubs like Devilles Pad or the LuWOW were like being in a crazy movie, we even had a Disco Freak party we then filmed for "Fags In The Fast Lane".
There are DOCU movies of most of the Wild Weekend parties on Youtube.
Is there a message in the way you do your movies? We mean, entertainment and fun are in everything that you do. Are they some kind of ideology?
I like to mess with the ideology, mix them up contradict them, it makes it more fun…, I never have Guns in my films and try to avoid saying fuck, as American movies are just people shooting and saying Fuck Fuck Fuck… how boring.
In Fags in The Fast Lane/Pervirella/Perv Parlor there is a big "weirdos are the best" thing (the 'normal' things and people in life can be the real evil ones).
Are you aware of the current festivals? What do you think about Mass-Festivals? Are they in some way similar to yours?
Sorry don't know what Mass Festivals are! I would say Funtastic is a direct descendant of The Wild Weekend and Tiki Oasis in San Diego was part inspired by the Las Vegas Grind, but from what I have seen these are both great festivals.
People still tell me there are no festivals that are the same as what we did with Wild Weekend in Benidorm!
You almost opened a Rock and Roll themed park. Something like a park with koalas with a lake and a Statue of Liberty, a train that roamed the whole park, a castle and a go-kart racetrack. What would have been its name and where was that? How did you find the place? Do you have some photographs?
This was called the Zombie Zoo and it was ½ hour north of Perth. I spent two years doing it up, building gardens, and designing it, but we were pretty much chased out of town when the "normal" locals discovered Wild weekend. I remember they used some shots of Jorge Explosion skateboarding naked as an example of how delinquent we were!.
We bought the place real cheap and then sold it a good price so did alright in the end and had a couple of awesome Xmas lunches there!
What exactly did you have in mind to do there and why didn't it came to be?
We wanted a theme park full of zombies and zombie animals. Very TIKI STYLE with a lake with bands in the middle, and people could get boats out to see them, the Awful Aquarium underwater ghost walk, the Ghouly Golf in a graveyard, The Panther palace night club and the Pirate parrots castle, we were building a volcano that could erupt with go-go dancers and a tiki walk. There was going to be tree houses to stay in and camping areas, we had a massive cave that went on for ever! And were building a giant octopus that would spray people with water!
No wonder they hated us!
Have you thought about building it in Spain, or would it be unsuccessful?
Maybe mañana…
Maybe not the park but what about another Wild Weekend!? Never thought about bringing it back? If you did, where?
Currently looking to do one at Mallorca but it's really hard to find the right spot and that is the hardest thing! We looked around Australia but its too far for most people and too Expensive. One resort owner would not believe that young people liked retro music!
And to finish, we'd like to warn our readers about its existence. Where can people go to see your brand-new film Fags in the Fast Lane? What's it all about? Advertise your movie a little bit, please! And choose a nice song to say Goodbye. Thank you very Much Cosh!
Fags in The Fast Lane is my best movie! A crazy mix of everything I love, Cars, Disco, Rock and Roll, Burlesque, Freaks, Gold Cocks! We take the piss out of everything especially sex! It stars legendary porn and Russ Meyer starlet Kitten Natividad, King Khan, The Mummies, and loads of cool underground muses and cabaret stars from down under…
Still touring festivals and such but will be streaming it after Easter if we can get some distribution.
"what you might get if Russ Meyer were gay and tried to make a film on ten hits of acid."
"…a horribly disfigured collision of schlock and high camp"-Auntie Meredith
https://dangerousminds.net/comments/fags_in_the_fast_lane_is_the_trashy_gayploitation_movie_the_world_needs_rig
♦ Cristian Aguado Crespo ♦
https://www.slovenly.com/wp-content/uploads/2017/12/devis-josh.jpeg
1365
2048
Cristian Aguado
https://slovenly.com/wp-content/uploads/2016/01/slovenly-logo-web.png
Cristian Aguado
2017-12-21 10:40:38
2020-07-12 20:28:01
INTERVIEW WITH JOSH COLLINS. THE INVENTOR OF THE ULTIMATE PARTY